JOHN CUTTEN who lives in Albany Auckland New Zealand - stole around $1,000,000 from approximately eighteen people including some of his family and is currently awaiting trial at the Auckland District Court.
"Cutten appeared in the Auckland District Court this morning and the presiding judge vacated next weeks trial at the request of his counsel who asked for a 3 week adjournment to the resolve the matter. The Detective informed the Crown that we have been in this position before and passed these concerns onto his counsel. As we know John has the propensity to not state the truth and everybody is becoming aware of this.
As a result the main two outcomes at his next hearing on 17 February are:
Cutten pleads guilty to 53 indictable charges. 16 counts of Obtaining by Deception, 18 counts of Forgery, 18 counts of Using a Forged Document and 1 count of Attempting to Pervert the Course of Justice. Then the matter is put off for sentencing. At this point if the courts see fit he may be remanded in custody
Cutten tries to defend and a new trial date is set down"
[ame="http://www.youtube.com/watch?v=TcFja5LomoQ"]YouTube - John "The Thief" CUTTEN[/ame]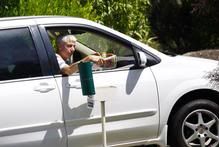 See Cutten here trying to get away from TV cameras, guilty guilty guilty.
Last edited: