http://www.itv.com/news/wales/2015-07-15/conman-pretending-to-be-soldier-took-250-000-from-women-he-met-on-match-com/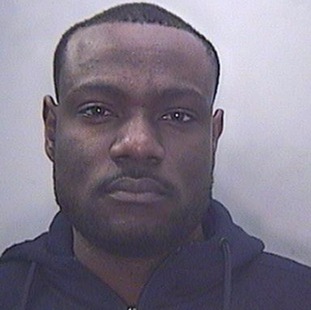 ITV Report
15 July 2015 at 11:23am
Conman pretending to be soldier took £250,000 from women he met on match.com
Tosin Femi Olasemo Photo: South Wales Police
A man who claimed to be an American solider serving in Afghanistan in order to defraud two women of more than £250,000 has been sentenced to four-and-a-half years in prison.
Tosin Femi Olasemo was living in Adamsdown, Cardiff, when he carried out the online dating fraud.
The 37-year-old used a photograph of a soldier wearing full military uniform as his profile picture on the website match.com and claimed he needed the money to arrange leave from the army.
Tosin Femi Olasemo conned the women out of more than £250,000. Credit: South Wales Police
Cardiff Crown Court heard Olasemo's main victim was Tine Jorgensen, 47, from Denmark, who had two children and was recently widowed.
In May 2011 her husband died and by December 2012 she had signed up to Match.com to see if she could find love again.
Cardiff Crown Court heard within seven days Olasemo had contacted her as US Army captain Morgan Travis.
He told her he was serving in Camp Joyce and sent her a picture of a soldier with the name "Travis" embroidered on his military jacket.
Ms Smith said: "She began talking to him over the video service Yahoo Messenger but he informed her he couldn't send live video of himself due to security risks in Afghanistan - something she accepted.
"Olasemo said he could get some leave but would have to pay administration fees and she said she would help him on the understanding she would get her money back."
Mrs Jorgensen was emailed by a man claiming to be a Colonel Bill Watson of the US Army requesting money for the fees.
She made multiple payments through Western Union totalling £39,957.90p to assist who she thought was now her boyfriend Capt Morgan Travis.
But the sums of money she would send soon spiralled out of control after receiving a message that Travis had been arrested.
She then sent him a further £211,980 in order to secure the release of Travis.
The fraud was ended when the bank of Mrs Jorgensen stopped two further money transfers of £40,000 and £150,000 getting through to Olasemo and contacted police.
Olasemo previously pleaded guilty to fraud and was sentenced at Cardiff Crown Court today.
This case is an example of how an individual can sit in front of a computer and destroy another person's life.
Olasemo took advantage of his victims' vulnerabilities and showed no compassion for their significant losses.
– Detective Sergeant Jamie Holcombe, South Wales Police Economic Crime Unit
The profile picture Olasemo used on match.com. Credit: South Wales Police
The money he gained will now be pursued under the Proceeds of Crime Act.
DS Holcombe added: "As always, we would encourage those using dating sites or other internet forums to be vigilant. Please do not send money or provide personal details to strangers."
For further advice on staying safe online, please visit the
Action Fraud
website.
Olasemo claimed he was stationed at Camp Joyce, a remote base in eastern Afghanistan near the Pakistan border, where about 700 U.S. soldiers, lived.
Police contacted the United States military to try and work out who the soldier was - but they were unable to identify him.
Judge Eleri Rees told Olasemo, "I am told it is probable you will be deported at the end of your sentence."